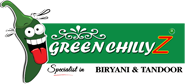 Greenchillyz making changes to prioritize safe service while providing the same level of hospitality, no matter how or where you dine with us.
At Greenchillyz, we are focused on finding ways to best care for our guests, particularly as we navigate the unparalleled circumstances of COVID-19. As social distancing guidelines continue to evolve, we continue to evaluate the way we extend hospitality.
Amid rapid changes, our commitment remains constant to Safe Service: for the customers we serve through take away, drive-thru, pick-up, delivery or in-restaurant, the Team Members and all of the people working together in our local communities to help keep their neighbors safe. 
Behind the scenes we are working with our operations, delivery, mobile app, food safety and Customer care teams to constantly review the evolving situation and adapt to help protect the health of anyone who orders during this time.